Why is an owner occupier type property so important to investors?
Who is an owner occupier?
An owner occupier is a person who purchases a property with the intention to live in it. This means that there's generally an emotional attachment to the property which will likely become the persons home.
An investor buys a property which will typically be rented out to someone else for a return.
The intention of each type of purchaser generally impacts the type of property they will purchase. For example, rather than a pure returns focus, an owner occupier adopts a more detailed approach to the type of property they wish to live in.
Why is it important for an investor to consider owner occupier type property?
Most investors are taught to 'remove emotion from their decision' and this can be beneficial particularly when the most strategic place to invest may be outside of your comfort zone or familiarity. But it is important not to disregard the emotional side when you are selecting the actual property.
In Australia, the potential buying pool is generally made up of 30% investors and the remaining 70% are owner occupiers. When an investor purchases a property, it's vital that they appeal to the largest possible portion of the market. To do this, they need to attract the local owner occupiers. A high percentage of local owner occupiers will result in a stronger potential for capital gains and less competition for rentals, so it's important that investors understand what an owner occupier type property looks like.
Property markets move in different cycles across the country, which means the performance of different markets fluctuate. When market performance is strong, owner occupier type properties outperform investor grade properties. Equally as important though is when the market softens, owner occupier type properties remain in demand and hold their value.
Here's an example of how different properties have performed in different markets.
Sydney
Over this period, the Sydney apartment market grew by an average of 79%. In the below example we look at the performance of an apartment in a boutique development in Coogee with a large floor plan. This is compared to an apartment in Rhodes, where the supply of new apartments remains high with many of these properties being sold to investors.
| | | |
| --- | --- | --- |
| | | |
| Address | 1/265 Carrington Road, Coogee | 214/56-58 Walker Street, Rhodes |
| Details | 2 bed 1 bath 1 car | 2 bed 2 bath 1 car |
| Size | 83 sqm total | 73sqm internal (approx.) |
| Sold 2012 | $650,000 | $587,000 |
| Resold 2020 | $1,100,000 | $715,000 |
| Capital Growth | 70% | 21% |
Melbourne
In the below example, we take a look at two established homes in the northern corridor of Melbourne. Craigieburn is located approximately 25 kilometres north of Melbourne and neighbours Mickleham, one of Melbourne's fastest growing regions with thousands of new dwellings being delivered in new housing estates. Mid-2019, the Victorian Government announced that 12 new suburbs in Melbourne's north and western corridors would become home to 50,000 new houses built in newly established suburbs.
In contrast, Northcote is located approximately 6 kilometres from Melbourne in a tightly held and established suburb, with limited new housing supply. Northcote has also benefited from the gradual gentrification and expansion of suburbs surrounding Melbourne's CBD.
As a result, the performances between the two suburbs has varied drastically between 2012 and 2020.
| | | |
| --- | --- | --- |
| | | |
| Address | 28 Willow Way, Craigieburn | 4 Whalley Street, Northcote |
| Details | 4 bed 2 bath 1 car | 3 bed 1 bath 1 car |
| Land Size | 600sqm | 300sqm |
| Sold 2012 | $485,000 | $473,000 |
| Resold 2020 | $652,000 | $1,200,000 |
| Capital Growth | 34% | 153% |
So, what makes an owner occupier type property?
Location, location, location
This can vary based on people's lifestyle preferences. For example, some will have a preference of living near beaches and cities whilst others prefer a more secluded lifestyle in the outer suburbs. One thing that we do know is that typically, owner occupiers prefer living around other owner occupiers. The key to finding the right suburb for investment, is identifying one where a high portion of residents are owner occupiers.
For investors, it is important to understand where the more desirable spots within a suburb are. For example, identifying properties that are close to shops, cafes/restaurants, transport, preferred schools, employment, and natural attractions such as beaches and parks are some of the key considerations.
Ratio of owner occupier's versus investors 
The location of a new project can influence the ratio of owner occupiers to investors in new developments, whether they be housing estates, townhouse complexes or apartment buildings. As an investor, it is important to understand this ratio and to avoid purchasing in investor dominated projects with high rental availability and supply. Excess supply and more limited demand will drive down property values and rents, whereas limited supply and high demand has the opposite effect.
An example of this may be Sydney's Zetland where there have been thousands of new apartments built. A high proportion of these new apartments in the area have been sold to investors. The Australian Bureau of Statistics (ABS) indicate that 62% of the 5,122 dwellings are rented as opposed to a suburb like Haberfield where only 18% of the 2,407 dwellings are rented.
Size of the development (apartments and townhouses)
We've found that owner occupiers usually favour more boutique developments with fewer apartments or townhouses. In general, higher density developments have a greater percentage of investors, typically resulting in less of a homely feel with the higher number of renters who tend to be more transient. In general, owner occupiers take great pride in looking after their homes and as a result they tend to be more passionate about the upkeep of the entire block. This is an attractive feature for future purchasers.
The size of a property is a key consideration for owner occupiers. Whilst an investor may be willing to purchase a smaller property with a reasonable rental return, an owner occupier who must live day to day in the property will want to ensure it is large enough to live comfortably. Whether an apartment, townhouse or house – every property market will have an expectation in regards to size that is acceptable to the local owner occupier community. Properties that are smaller than this size are generally those purchased by investors.
It is very hard (usually impossible) to alter the internal size of an apartment or townhouse, or the land size for a house once it has been constructed or purchased. If investors are looking to appeal to an owner occupier market on resale, then this one aspect they need to get right at purchase.
In the apartment and townhouse market, the design and layout are often difficult to change, therefore getting it right at purchase is critical. Commonly investors make mistakes when purchasing properties they haven't seen in locations they haven't visited, as they often fail to select the type of properties that appeal to the local owner occupier market.
For example, Floorplan 1 is a compromised two-bedroom apartment with a congested kitchen, single dining and living space and with limited natural light to the main bedroom (no windows in the main bedroom, light comes in via a void). This type of property has a compromised layout and is typically purchased by investors. As a result, there tends to be a higher turnover of tenants.
In contrast, Floorplan 2 is based on an apartment with an open layout, separated dining, living and kitchen space and significantly more natural light. This property was purchased by an owner occupier who planned to live their permanently. Investors who purchased these type of properties to rent out, will typically find that they have a lower turnover of tenants.
Floorplan 1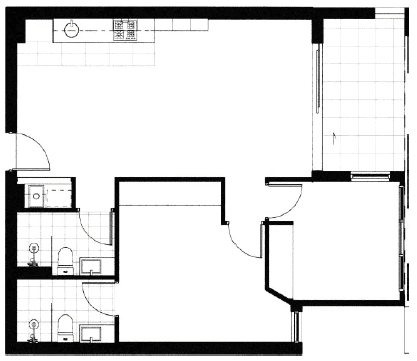 Floorplan 2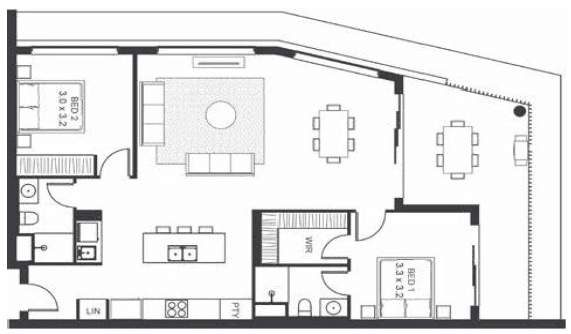 How should you approach your next investment?
Given the amount of details and market understanding that is required to make strategic investment property decisions, the most efficient way to ensure you are investing in the right property is to build a team of trusted professionals around you. This team could include:
Financial planner: A strategic advisor to assist you in building a strategy that will allow you to reach your financial goals. Understanding that strategy will help to identify the right type of property for investment
Mortgage broker: Understanding your finance and borrowing capacity is critical in identifying a property that fits within an affordable price range
Property research advisory: This is particularly important as engaging a property professional will help you to avoid making the mistakes that many investors often make when purchasing interstate. A good property advisor should assist you to identify high quality owner occupier type properties that have a likelihood of high capital growth and consistent rental return.
Solicitor/conveyancer: Engaging a conveyancer or solicitor to assist with the legalities and the property contract processes.
Property manager: Having someone in your corner to manage the ongoing rental of the property, should ensure minimal vacancy and high-quality tenants are secured
If you wish to learn more about the information discussed above or to begin your investment journey, please feel free to get in touch with our team by clicking here. 
Disclaimer: All information offered in this article is general in nature. We recommend you seek the advice of industry professionals as mentioned above, before undertaking any investment decisions.